Lakes, the leading manufacturer of innovative showering spaces, has updated its popular Wave Collection to include a top-of-the-range high spec black finish option.
The Wave Collection, which was launched in June 2022, is precision engineered to the highest standards, with great attention to detail throughout and has previously been in a contemporary stunning silver finish as standard.
Now, the Lakes team has updated the range to reflect the growing popularity of the use of black in showering spaces – loved by many for its enveloping feel and timeless, sophisticated aesthetic.
The Wave Collection focusses on the use of 8mm glass for a great balance between strength and lightness.
The versatile collection includes most showering space styles and features hinged, quadrant, slider, and bi-fold door options as well as a side panel which can be combined with the hinged, slider and bifold doors.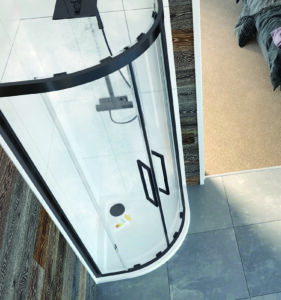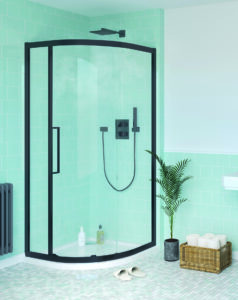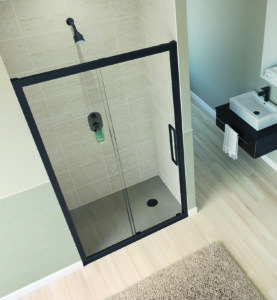 Reassuringly sturdy, while minimising weight to save resources, the strong frames mean there is no compromise in the quality or performance of the showering space, while retaining simplicity and ease of handling for installers when carrying and manoeuvring it into position in confined spaces.
The process of introducing the Wave Black range – which is now stocked by Lakes and available to order – wasn't simply a case of putting a lick of paint on its current Wave stock.
In line with Lakes' commitment to quality, the colouration was a focused and detailed operation built around creating a durable finish that would stand the test of time.
Managing Director Bev Brown says: "The ever-changing landscape of bathroom trends is always so exciting to observe and be a part of, but some styles are just timeless.
"Over the last couple of years, it has become clear that black is here to stay; it has transformed from a trend to a staple.
"With that in mind, we wanted to update the Wave range to reflect this, providing an alternative with the highest quality black finish available.
"Attention to detail is important for many homeowners, which is why our Wave Collection design has been developed with precision engineering, allowing customers to achieve the perfect balance of functionality and style.
"The option of Wave in matt black gives customers even more choice and freedom to design their dream showering space.
"This new collection will help refresh showrooms and drive sales for national merchants and stockists."
All Lakes products are backed by a unique no-quibble guarantee.
To add Lakes' new Wave Collection to your display, call 01684 853 870.