Builders' Merchants' Q2 sales: A tale of resilience and recovery
Industry Insights | 11/09/2020
The BMBI results for Quarter 2 show the phenomenal resilience of the sector in action. April, May and June couldn't have been more different. April, in almost full lockdown, fell -76.5% year-on-year, May recovered to -39.9% as restrictions started to ease, and June grew +2.2%, helped by two more trading days this year, more relaxed restrictions and a booming Landscaping category.
Year-on-year
Total Builders Merchants value sales in Q2 2020 (unadjusted for trading days) fell -38.6% compared with the same period in 2019.
Landscaping the strongest performer, was down -13.3% over the same period. Tools was weakest (-58.6%), followed by Kitchens & Bathrooms (-57.9%) and Plumbing, Heating & Electrical (-53.1%).
Quarter-on-quarter
Total value sales dropped by -27.2% in Q2 2020 compared with the previous quarter. All categories declined except for Landscaping (+38.7%). Kitchens & Bathrooms was down -55.8%.
Month-on-month
June improved with total value sales +2.2% up on May. Landscaping showed the biggest category surge over this period, up a blistering +50.3%. Sales were still negative in most categories, but returning, with Kitchens & Bathroom sales recovering to -22.5%.
Index
The quarterly BMBI index for Total Builders Merchants was 76.4, with Landscaping ahead of all categories at 138.8. The index for Kitchens & Bathrooms was 48.4.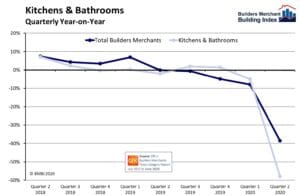 Mike Tattam, Sales & Marketing Director Lakes and BMBI Expert for Shower Enclosures & Showering, comments: "Lockdown had a dramatic effect on all areas of construction. But after the initial shock in April, the recovery has been faster than forecast. The industry is positive, however the market is understandably cautious. Is this a V-shaped recovery driven by pent-up demand or the W-recovery predicted by economists who expect lots of downward pulls from regional lockdowns, mass unemployment, consumers switching to save not spend, and a still up-in-the-air Brexit throwing a spanner in the works?
"We've all learned the value of strong supply partnerships in this pandemic, with manufacturers working hard with merchants to overcome supply chain constraints, while working safely and communicating clearly.
"Merchants are adapting quickly to this new normal, converting traditional call and collect business models into click and collect, and setting up transactional sites as quickly as they can. Our personal purchasing behaviours changed almost overnight during lockdown, and since then many merchants and manufacturers have looked more closely at including online in the mix.
"Yet online selling doesn't work as well for higher-ticket or complicated products where people don't always know the questions they need to ask and need expert assistance to guide them. They want to see how products work and want to feel the differences between different qualities and price, and they like the reassurance of proximity for the confidence and convenience of an accessible after sales service.
"Not all merchants have the deep pockets to invest in the right retail technology and the scale to succeed, but an omnichannel strategy with online and offline combined is very effective in playing to merchants' local strengths.
"The steps and sequence of the customer journey may have changed, but we mustn't underestimate the value of human interactions in that journey. The future of showrooms is incorporating the best in online and offline selling to deliver a holistic and safe customer experience. That's the 'new normal' and it's here now."
BMBI Experts speak exclusively for their markets, explaining trends, issues and opportunities. For the latest reports, Expert comments and Round Table videos, visit www.bmbi.co.uk.