Lakes launches stunning 'showroom exclusive' showering spaces
Product Launch | 16/09/2020
We have added two stunning 'showroom exclusive' showering spaces – Antigua and Aruba – to our premium Island Collection. The exciting new products are designed to help stockist customers maximise sales and create real wow in their displays as they reopen their showrooms.
The Antigua is an elegant 2-metre high slider with high specification design, while the Aruba has all the features of the Antigua with the addition of a side panel.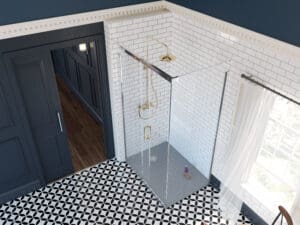 The Antigua Slider has got it all: an easy-glide door that closes effortlessly at the touch of a finger to a near-silent stop; concealed wheels for easy cleaning and a cooler look; a low threshold for easy and safe access, and a solid cast handle with smooth, rounded edges for supreme elegance. There's an ultra slim gap between the fixed panel and sliding door, and a discreet Quick Release mechanism for the best in practical and aesthetic appeal. With its side panel, the Aruba adds the flexibility of a stylish showering space that's ideal for corner settings. Both products have Lakes Glass – PureVueHD low-iron glass for superior clarity and AllClear® advanced glass coating for long-life looks. Glass thickness is 8mm.
Antigua and Aruba are designed with Lakes Definitions, the exclusive perfect finishing touch. Lakes Definitions is a new range of handle colours with matching profile caps, available in stunning rose gold, gold, nickel and matt black, with chrome as standard.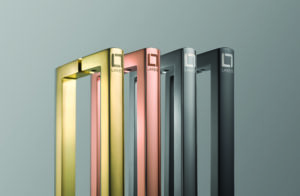 Sales & Marketing Director Mike Tattam says: "Attention to detail is a strong focus of our new product development and the Antigua and Aruba combine the best in performance and design. With a surge in home improvement activity and a shift to multi-generational households, we're confident these new 'showroom exclusive' products will achieve maximum impact in showrooms and give our stockists more opportunities to sell showering spaces for today's lifestyles."
All of Lakes products are backed by a unique lifetime guarantee. To add Lakes' new Antigua and Aruba to your display, call 01684 853 870. Download the brochure here.