Carbon neutral Lakes plants 200 trees at local school!
Charity, Company News | 16/12/2019
Lakes recently attended a tree-planting event at King's School in Gloucester as part of its commitment to offset carbon emissions produced in the natural day-to-day running of a business. Lakes worked with children from the school, the Headmaster and grounds team to plant over 200 trees on the day, with all of them firmly rooted in one afternoon!
Earlier this year, Lakes was certified a Carbon Neutral Company. The achievement was based on working closely with Carbon Footprint Ltd to look at ways it can offset its carbon emissions produced in the natural day-to-day running of a business. One of the three areas identified was to plant trees, as trees absorb carbon dioxide to produce oxygen.
Mick Evans, Operations Director at Lakes, commented: "The tree-planting was a fantastic team effort, as well as fun, and we're really pleased with what was achieved on the day. With an increasing focus on waste management and environmental best practice, Lakes is proud to be leading the way in our sector in reducing our carbon footprint. We believe it's important to raise awareness and encourage more businesses to do the same."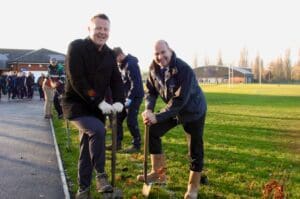 Lakes' strong environmental focus started with the introduction of its new 100% recyclable packaging last March. The improved packaging alone will remove approximately 2,000 kilometres of banding a year from landfill, and nearly two million pieces of polystyrene. Lakes' commitment to improving its impact on the environment extends to 100% recycling of all product waste, primarily glass and aluminium, and of all recyclable site and office waste.
Mick adds: "The increasing threat of climate change is a daily reminder that we need to change how we operate as businesses and consumers. We hope other manufacturers will follow our lead with this."
Claire Card, Marketing & Communications Manager at King's School, added: "With climate change a serious concern for all, the King's School, Gloucester is keen to play its part in the battle against global warming. We are planting 720 trees in total so we were really pleased that Lakes' staff came along and planted their 200. As well as capturing carbon emissions, the new trees and hedges around the school grounds will provide many other benefits to the children, including improving the air quality, creating outdoor learning spaces, offering nectar for bees and engaging young people with the natural world."
For more information call 01684 853870.