Merchants' sales of kitchen and bathroom products grow in Q3
Facts & Figures, Company News, Industry Insights | 02/12/2019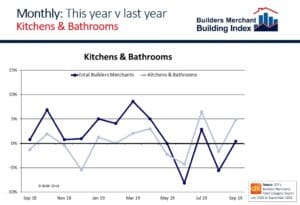 Total Builders' Merchants' value sales were down -0.8% in Q3 2019 against the same period last year. The adjusted figure, which takes into account the difference in trading days, was down -2.3% compared with Q3 2018.
Value sales of Heavy Building Materials declined marginally by -0.4% year-on-year with Timber & Joinery sales also falling by -4.7% over the same period. Kitchens & Bathrooms was among the strongest categories with growth of +3.2% in the quarter.
Compared with Q2 2019, Total Builders' Merchants' sales saw marginal growth of +0.2% in Q3. However, when adjusted for the four additional trading days in Q3, the figures showed a sales decline of -6.0%, marking the second consecutive quarter with negative growth. Despite a fall in sales of -0.8% on an adjusted basis, the Kitchens & Bathrooms category was the second best performing category quarter-on-quarter.
Month-on-month sales in September were up by +1.0% compared to August on an equal number of trading days, with merchant sales of bathroom and kitchen products slightly more positive at +1.8%.
Mike Tattam, Sales & Marketing Director Lakes, and BMBI's Expert for Shower Enclosures & Showering, said: "With political parties outdoing themselves in predicting dire consequences, and politicians and the media flinging large numbers around, it's no wonder people are uncertain and less confident.
"GfK's Consumer Confidence Index dropped a further two points in October to -14. The index is calculated as an average of averages from five core questions. The questions are about people's personal financial situation, based on how it's changed in the last 12 months and how it's expected to change in the next 12 months, how the general economic situation has changed and is expected to change, and in view of that, whether now is the right time to make major purchases?
"The gaps between their own situation and their expectations and views of the economy are huge. In October, consumers' personal financial situation and expectations for the next 12 months are both +1 i.e., still positive, and the Major Purchase Index (which includes most RMI projects) is also +1 so it's still a good time to buy. But, consumers' views of how the economy has performed in the last 12 months have tanked (-33), as have their expectations for the next 12 months (-37)! Could there be any clearer demonstration of the negative effect of the grandstanding and self-serving behaviour in parliament and the snide commentary we've been exposed to in the national media?
"The Environment Bill that was introduced to Parliament after the Queen's speech has been parked while we elect a new Government. If enacted, it will set environment targets for the UK. Industry will be required to recycle glass, metal, plastic, paper and card and cover the costs of doing so, including the costs of collecting and transporting the waste. Whether this Bill makes it or not, another will follow so manufacturers need to act now.
"That's why Lakes recently announced new sustainable packaging to reduce waste. It will also make it safer and easier for our customers and installers to handle large heavy packaging. And it's why we're establishing a closed-loop mechanism to bring back packaging waste from stockists and installers to us."
For the latest insights, download the Q3 BMBI Report here: www.bmbi.co.uk.