Builders' Merchants' Q1 sales hit by Coronavirus restrictions
Why Lakes?, Company News, Industry Insights, Lakes People | 29/05/2020
Builders' Merchants' sales in the first quarter of 2020 were knocked by the COVID-19 pandemic and Government measures to contain the virus.
Year-on-year
Total value sales in Q1 2020 (unadjusted for trading days) fell -6.7% compared with the same period in 2019, with all core product categories affected. Adjusted for trading days, total builders' merchants' value sales dropped -8.2%.
Tools (-12.7%) and Timber & Joinery Products (-11.1%) reported the biggest falls on an unadjusted basis. Plumbing, Heating & Electrical (-7.4%), Heavy Building Materials (-6.5%), Decorating (-5.1%) and Kitchens & Bathrooms (-4.1%) were also down. Perhaps not surprisingly, the one outstanding performance was in Workwear and Safetywear up +24.2%.
Quarter-on-quarter
Total value sales dropped marginally by -0.8% in Q1 2020 compared with Q4 2019. Most product categories reported lower value sales over the period, including Kitchens & Bathrooms (-2.4%). The exceptions were seasonal category landscaping (+7.6%), Workwear and Safetywear (+9.5%) and Renewables & Water Saving (+15.9%).
Index
The quarterly BMBI index for Total Builders Merchants was 105.6, with Workwear & Safetywear ahead of all categories at 129.1. The Index for Kitchens & Bathroom was 111.9.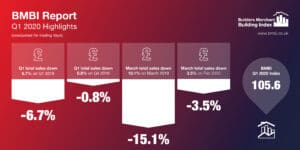 Mike Tattam, Sales & Marketing Director and BMBI's Expert for Shower Enclosures & Showering, comments:
"Many bathroom and showering products are manufactured in China. While our factory in China is fully open and our UK stocks are high, as a result of the disruption many containers and ships along the global supply chain are in the wrong place, unable to unload or load, and extending the normal 6-8 weeks lead time. Stocks are arriving in the UK, but the lockdown here means many products are sitting in UK docks or on ships with nowhere to go.
"The sudden mass closure of builders' merchants, partly driven by media and social media pressure, meant that installers and homeowners were driven to the internet, taking advantage of easy online ordering and direct delivery. Once government eases restrictions and encourages the reopening of showrooms, merchants will have to work hard to win back a customer base that may have become more used to online buying. Making sure your staff are experts in their field, so they add value with advice and support (while adhering to social distancing guidelines), has never been more important.
"Construction sites are returning to work, but it will be slower for the RMI market as the general public will be wary of inviting tradespeople into their home. Ensuring that they have full personal protective equipment (PPE) and can demonstrate they are operating to clear safety guidelines is fundamental in getting this sector of the market moving. Tradespeople who behave safely in PPE are more likely to be accepted than those who don't.
"It's not all gloom. Some merchants report homeowners have been using their time at home to plan future building work. Cramped bathrooms, showering spaces that are a hazard for some of the family, or lack of an ensuite, become extremely important when you're locked in for weeks on end. Holiday budgets that can't be enjoyed abroad, may be spent on improving the home. The 'bounce back' may not be immediate but may be sooner than economists would have us believe."
Each quarter, BMBI Experts speak exclusively for their markets, explaining trends, issues and opportunities. For the latest reports, Expert comments and Round Table debate videos, visit www.bmbi.co.uk.