A large profitable market you may be overlooking
Company News, Industry Insights | 29/05/2020
With multi-generational living on the rise, we expect greater demand for housing that reflects this strong trend. Displaying showering spaces that cater for different needs within the same household will be increasingly important, says Sales & Marketing Director and BMBI Expert Mike Tattam.
Recent research for the NHBC Foundation[1] by the Cambridge Centre for Housing & Planning Research (CCHPR) finds that 1.8 million UK households now include two or more adult generations. That's 38% up since 2009. Drivers include providing support for older family members, a lack of affordable retirement homes, as well as sons and daughters returning to live with their parents, and the high cost of housing.
The demographics of an ageing population will have an increasing impact. According to the ONS, there are currently 11.8 million over 65s in the UK. They are forecast to rise to 18.5 million by 2040. The return of millennials to live with their parents is a big driver too. The Resolution Foundation says about 20% of 25-34-year-olds live with their parents, compared with 16% in 1991. With a shortage of new homes being built, worsening affordability, and rising rentals, it's clear why young people are returning to live with parents.
When social distancing measures for Covid-19 are relaxed and normal life resumes, these factors will still be in the driving seat. Multigenerational living is baked into the next 20 years and will be a strong driver for many home improvement sectors. The number of homes being converted to adapt to multigenerational living is currently around 125,000 a year[2]. Loft or basement conversions, extensions and separate living annexes improve your living space, and allows for greater privacy and independence.
The bathroom is one of the most used rooms in a house. With more people living under one roof and sharing bathroom spaces, it's more important that showering spaces and bathroom furniture are robust, low maintenance, easy to clean, safe and adaptable for different needs from young children to the less mobile, or ageing parents.
Two key considerations for a multigenerational bathroom are improved accessibility, without compromising on style, and maintenance.
Accessibility with style
Multi-generational houses need practical solutions to ensure older parents or people with access or agility problems enjoy a safe and invigorating shower. Typically these adaptations are clunky or utilitarian white, glossy plastic without refinement. But they don't need to be, and it's not what this new market is looking for. A new generation of multi-generational products are smart, stylish and unobtrusive, well matched to the popular spa-like modern bathrooms.
Walk-ins with a low threshold tray are increasingly popular, creating an open, stylish space to reduce slips, trips and falls. There's a growing trend for premium, stone-resin trays that are non-slip and feel great under your feet – ideal for wet rooms where the bath is removed for ultimate accessibility. An integrated shower seat provides a seamless finish to a comfortable and safe showering experience, or a discreet, foldaway shower seat and grab rail attached to the wall for a perfect uncluttered look.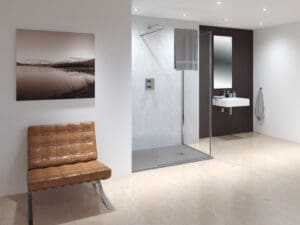 Sparkle & shine
Showering spaces are mainly glass, and with Covid-19 making us more conscious about keeping our hands and surfaces clean, the last thing you want to be doing is spending a lot of time wiping away the build-up of scum and scale after every shower, and for every shower in the house. 'Hard work' showering spaces quickly lose their appeal.
Innovations like AllClear® from Lakes Glass – an advanced nano-coated glass coating on both sides of the glass – ensures that water, limescale and soap scum slide off the glass rather than sticking to it with a simple wipe using a damp cloth. AllClear® is also 10 times more scratch resistant than normal glass, so it can handle whatever families throws at it.
Quality sliding shower doors also have a 'quick release' function at the base to make it easy to clean around the hard to reach areas. Many homeowners are unaware of this, and while not revolutionary, it's an appreciated benefit when it's pointed out.

Selling style & practicality
Multi-generational living is not a specialist market: it's a big and growing trend, which affects everybody. Engaging with it, asking questions about lifestyle, and getting to know what people want and need gives merchants a competitive edge. These consumers are not looking for 'cheap and cheerful' solutions. Grandparents moving in with children generally have the money and time to shop for products with the convenience and practicality they need, and the higher-end style they expect.
As the COVID-19 lockdown eases and showrooms slowly reopen, make sure yours are ready with designs for multi-generational living to encourage conversation and new selling opportunities.
Discover Lakes Additions here, our growing range of additional options for showering spaces to suit today's lifestyles, or Walk-Ins for flexible solutions without compromising on style or design.
For more information or to take advantage of our range in your showrooms, call our sales team on 01684 853870.
[1] www.cchpr.landecon.cam.ac.uk/Research/Start-Year/2015/Multi-generational-living-potential-opportunities-for-house-building-sector/OutputTemplate/multigenerational_living_final_report
[2] www.cbre.co.uk/research-and-reports/our-cities/multi-generational-housing