No longer the Running Man
Firstly I'd like to thank all the donors for their kind support during the last week: My friends from the R&PWCGS, Vince and Lisa Di Stazio, Ken and Jenny Pepperrell, John Swain, Cath Golding, Helen Newman of Lakes, Wendy Gillard of Timbmet, John Scrivens of Lakes, Barry Nicholls, Giles and Liz Bloomer, Frank the London Taxi driver, Paul Owen and Lynda of IKO, Terry Broad, Stephen Turner (Past Master WCoBM), Colin Stewart of Lakes, Martyn Smith, Jo-Anna Challens of Lakes, Mrs I Malyon, Dawn Jones of Lakes, Ben Pontin, Adele Pugh, Jane and Joe Evans at MRA and those anonymous donors.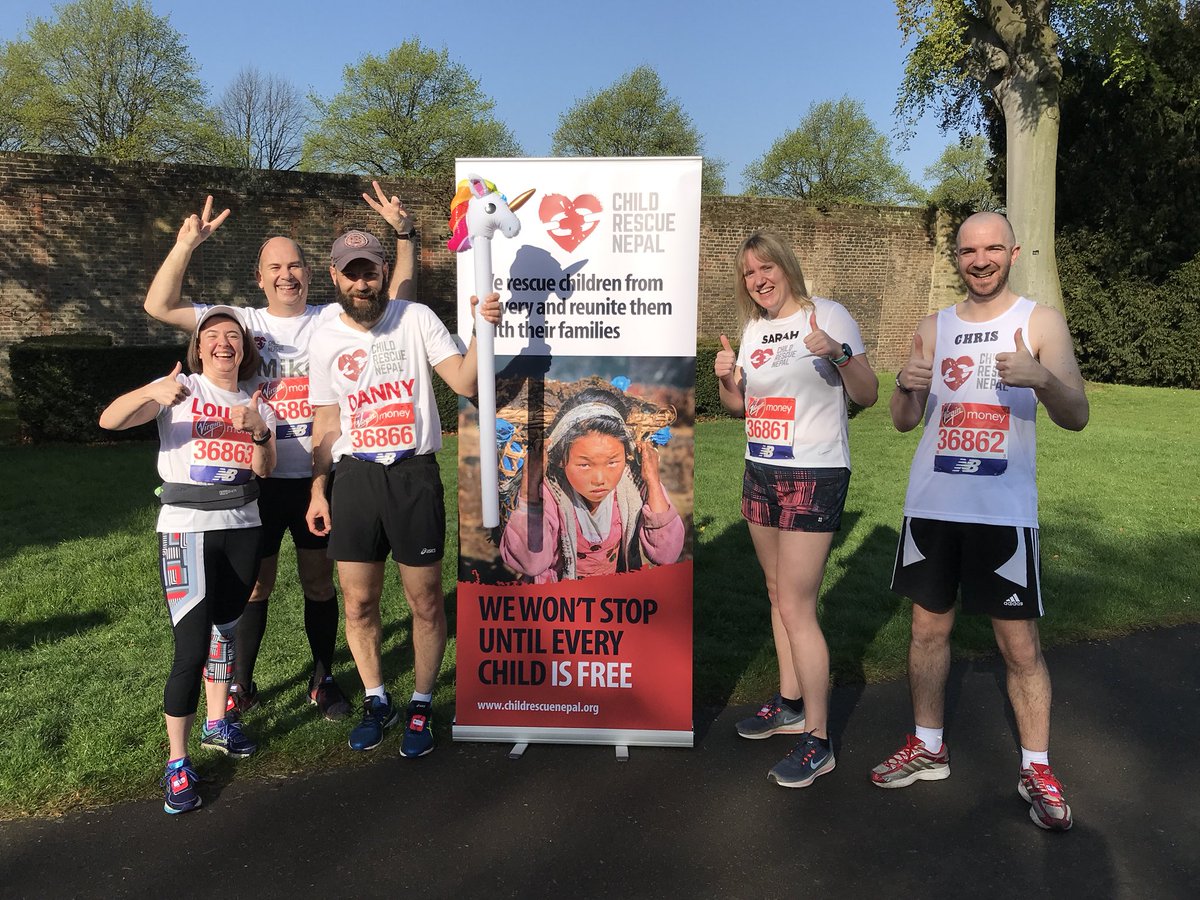 Well it's done, over, completed and never to be done again. I ran the London Marathon – 26.2 miles in the hottest weather on record, in 5hrs 27mins and 13sec and every step was hard.
My Sunday story
So at 8am last Sunday morning, I arrived with my two running coaches, Lesley and Steve Gaunt, and my best friend and his wife along with my long suffering wife at Greenwich Park where we said our goodbyes. I went off to the Red start while my friends and wife went off to have a coffee and Croissant! The first thing I did was meet the lovely team from Child Rescue Nepal for a team photo (see above) and meet the other victims, sorry competitors who all seemed ready to go and face the challenge.
Following the photo I headed off to the start to deposit my belongings (clean socks, fresh top etc) in a bag I had been given to put on the back of a lorry that would be driven to the Mall for me to collect at the end of the race. At this point it was a lovely warm summers day (in spring) in our magnificent Capital. At about 9.30 you are asked to go to your holding pen, which is an area where runners of a similar time start are corralled, and there is the opportunity to chat to your fellow competitors getting excited about what you are about to do. We even had a Womble in our group. At 10am the Queen started the 2018 Marathon and we're off, well not exactly, the Elite runners are off. I got started at 10.22!
As I went through the start I was ready, I'd trained hard in one of the coldest winters we've had in a number of years but unfortunately on Sunday the temperature was 24 degrees! During the first couple of miles I was high fiving kids, policemen and, what seemed like, the whole world. People were calling out my name, whistles were being blown and music played – a great atmosphere, but it was warm, really warm. By the end of the 2nd mile I saw my first person walking, now this is unusual, as we've all trained to run 26.2 miles. It was a sign of things to come.
Taking on water when I could and sticking to my running plan I rounded Cutty Sark on time and it felt really good to be actually running the Marathon. I then saw my supporters at 6.6 miles (see below) and while I was hot and by this time dowsing myself with water the plan was going well. I'd passed the Firemen in full uniform, a woman on stilts and an emoji but it was really hot now and I was already starting to feel a tiredness in my legs.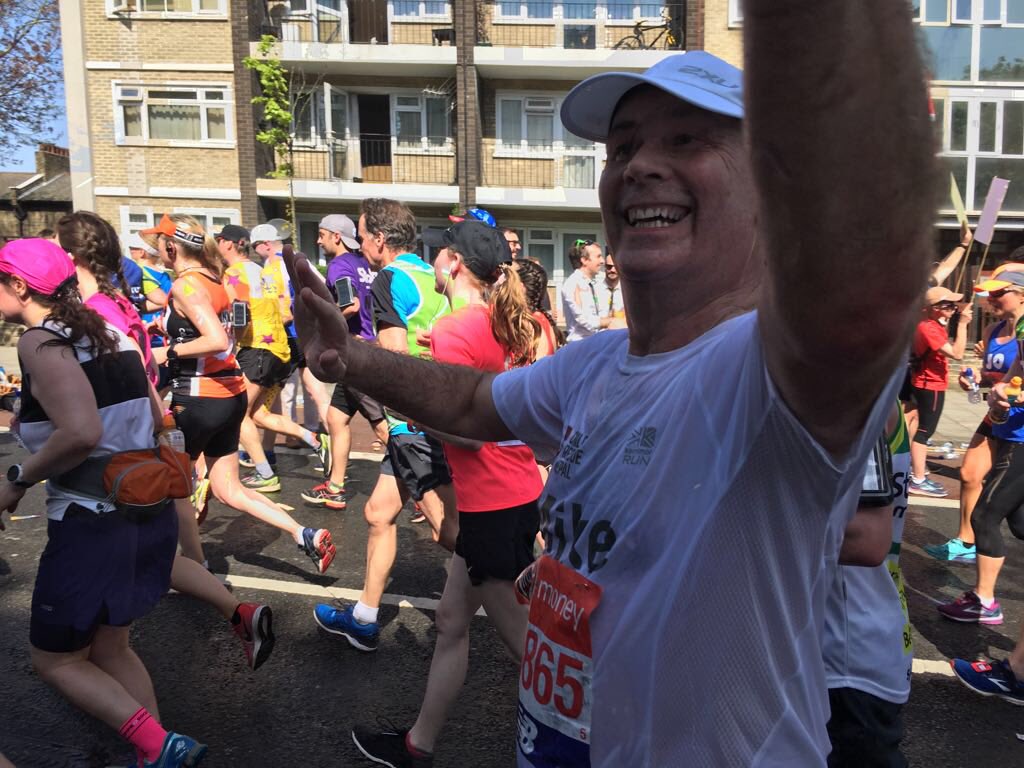 By mile 9 I'd seen my first person being treated by paramedics and people were walking and I had had to change my strategy too. If I was going to complete this event I had to employ the walk 1 minute run 5 minutes plan. This plan worked but my pace was slowing and, like so many others, I was suffering in the heat. It's really hard to explain, I was breathing without a problem but it felt like I was running in porridge and by this time at every water station all runners seemed to be taking two bottles, one to pour over themselves in and the other to drink. At mile 13 I'd just gone over Tower Bridge, by which point Mo Farrah had finished, and you could see the other elite runners coming in the opposite direction and they have about only 6 miles to go!
Docklands was a bit of a blur, running with aching legs, feeling incredibly hot until you got to a water station then feeling hot again and just trying to keep your legs moving. One highlight was being seen by a friend who I'd not seen for over 30 years, so yes I stopped for a picture. And no this wasn't an excuse for a breather! But it was great to see her again.
I had planned to see my supporters around 16 miles, but no sign. Had I missed them? Were they having an ice cream and forgotten me? All I knew was that this was the hardest thing I've ever physically done. Run, walk, drink, run, walk, drink the race just went on. Then suddenly there they were at mile 18, I stopped and said it was too hard and that I hurt all over.
At which point Steve, my coach told me 'Just keep Going' so I did. Now by this stage people walking around you is the norm, the general public were doing a magnificent job of encouraging people and I'll never forget how that helped. The noise was defined with music, whistles, bands and drums a cacophony of sounds that melt into the background as you concentrate on putting one foot in front of another.
At mile 22 I saw my 21st person being helped by paramedics and little did I know at that point that the day would end in tragedy for one family and my heart felt wishes go out to them.
Mile 23 I was passed by a Rhino……yes a Rhino! At this stage you're running along the Embankment by the Thames and I was mentally fighting my body to keep going, the heat wasn't going to beat me and I was going to finish. I could see Big Ben, The London Eye and my support team again, a really uplifting moment that helped me on my way.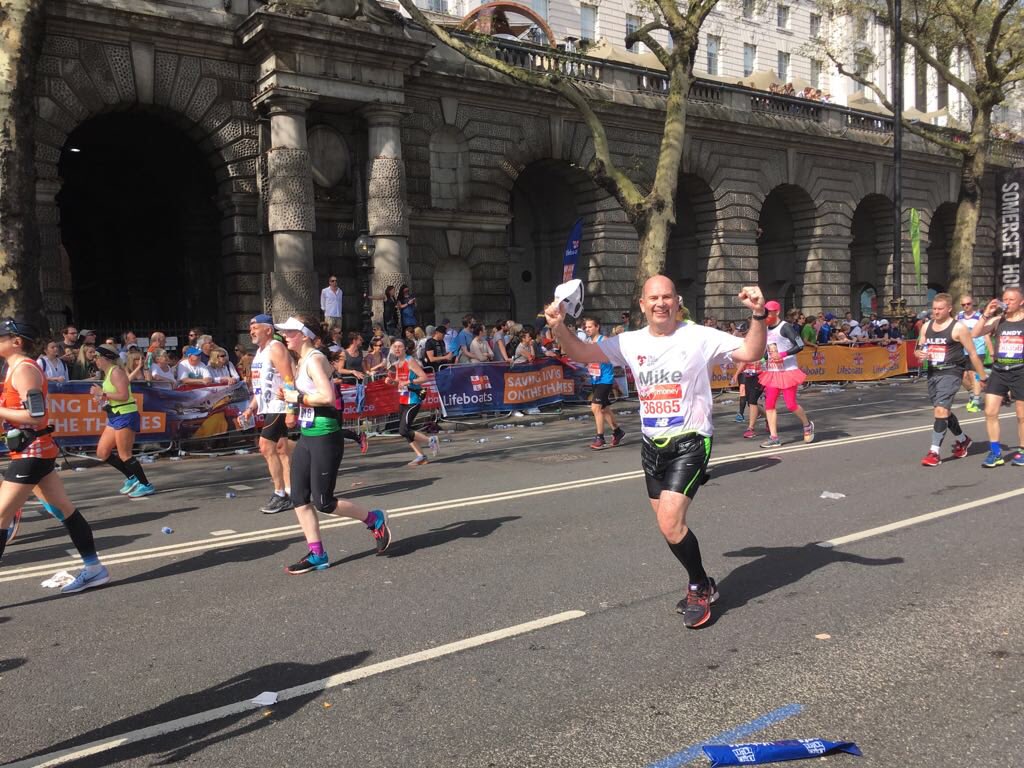 You turn into Parliament Square and there what seems like thousands of people cheering you on to the end and what seemed like a flash I was running down Bird Cage Walk. I could see Buckingham palace and there were signs saying 800m to go, then 600m. At the Victoria memorial a sign saying 400m, then into the Mall and you see the finish and a lump came to my throat and I sprinted like a racing slug through to the finish. I'd done it, I'd completed the Virgin London Marathon. Then the pain starts – I ached all over, my back suddenly hurt, ankles and feet were sore but I'd got my medal.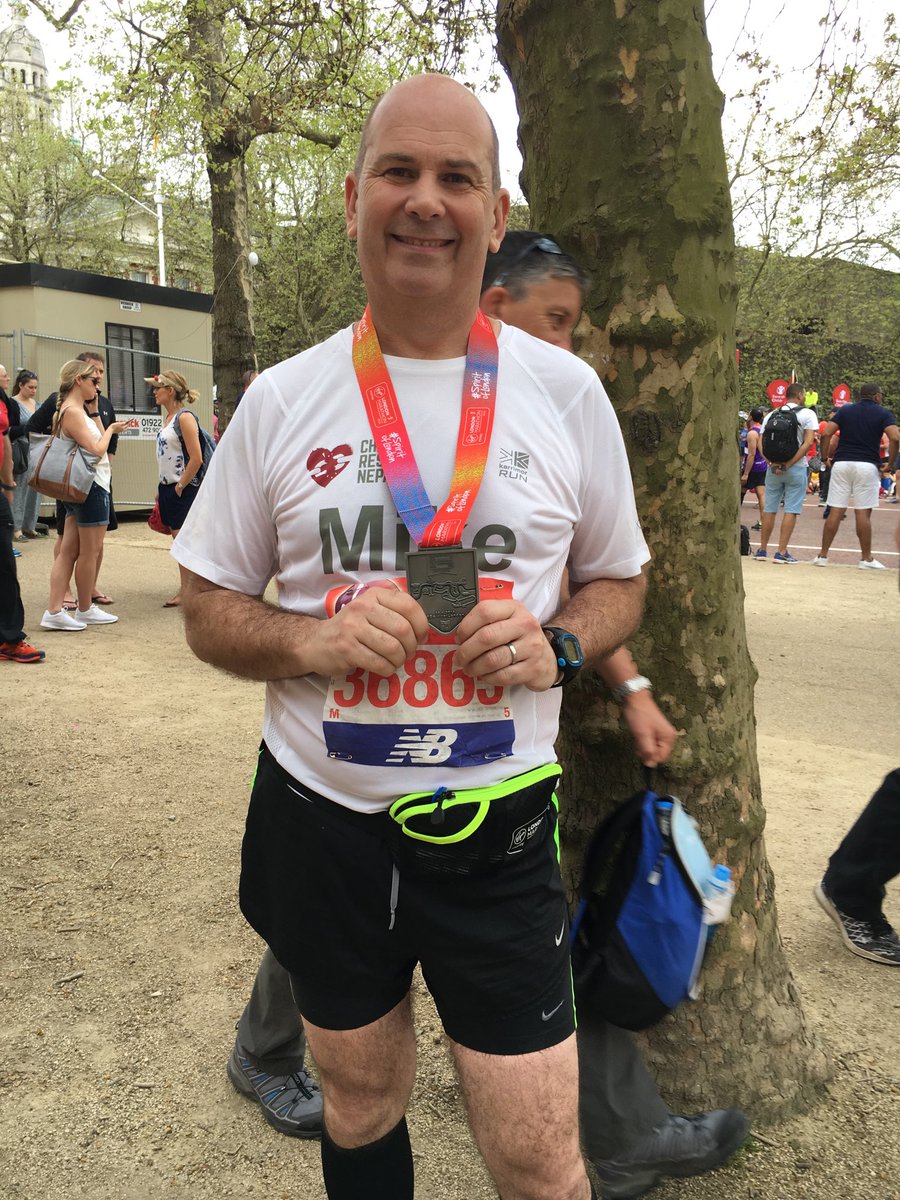 The pain soon goes and it now feels like a badge of honour and by next week I'll be fine but would I do it again? A very firm no, yes I realise everyone says that then wants to beat the time they posted which I'd like to do but I gave up too many things to do it again, and bored too many people, for far too long about my Marathon training, So NO!
This all started with a conversation with Simon Lawson at the BMF Conference in June last year which I will always be thankful for as I achieved a life times ambition, but in the end was it worth it? The answer is a simple yes. YOU all helped to raise £5,184.17 for Child Rescue Nepal, YOU have helped change children's lives, YOU are the ones to be applauded.
And raising a phenomenal record-breaking amount of money for children in Nepal through @childrescuenep! What a champion!

— Child Rescue Nepal (@childrescuenep) April 24, 2018
I do have a few thankyou's to make; Simon Lawson for starting this all off, Lesley and Steve Gaunt of Bedford Running Club for all their guidance, motivation and support, Ray Fielding and Matt Sherington of Courtyard Clinic in Dursley for getting me back into shape when things went wrong, Kirsten O'Neil Sports massage therapist, Dr Rod Jaques at the Nuffield who found my back problem and helped me with a way of overcoming it, Fiona Russell Horne for publishing my blogs in the BMJ magazine, Child Rescue Nepal for their support and encouragement and finally my wife. She has had to put up with missing holidays, listening to me complain about ailments, listening to endless conversations about running, and meeting me on long runs with food and water. She has been my rock and my biggest supporter, Thank you.
My final thank you is to all of you who have given to this wonderful cause – so it's good bye from the Running Man and if someone asks you to do it, well just go for it – I did and on reflection loved it – Bye all!
Worshipful Company of Builders Merchants, the Builders Merchants Federation, Lucia Di Stazio of MRA Marketing, Lesley and Steve Gaunt, Andy Williamson, Simon Clubb, Bill Sumner, John Poore, Gill & Dave Moore, Simon Smith, Andrew Ward, Richard Warrington, Tony Smith, Clive Burren, Ross Snape, Tom O'Neill, Graham Bushby, Ian Church of Snows Timber, Steve Durdant-Hollamby of AWMS, John Newcomb of the BMF, Mike Rice of Factor3, Mark Hall of SRS Recruitment, Colin Hambling, Andy Poolman, Martin Earl, Dennis Smith, Fiona Pentney, Tim Dipple, Martin Lee, Ian Hamilton, David and Clare Young of Bradfords, Tom Williams of Lakes, Ian Malyon, Steve and Natalie Halford of Crystal and my friends from the R&PWC Golf Society, Simon Bailey & Dave Wheatley both of Lakes Bathrooms, John Fisher, Colin Tattam, Charles Ledigo of Reisser, Steve and Pauline Boyer of Marsh Industries, Keith Probyn, Lakes Bathrooms, Beth Cameron, Marilyn Graham, Sean Rice from Grahams, David Tattam, Haj Mahal from Mucklow Hill Interiors, Simon Lawson of Lawsons, Ian Wilson, Lakes Bathrooms, Mark and Maggie Mulvey, Mick Evans from Lakes Bathrooms, Phill & Lizzie O'Dell, Andy Cole from Lakes Bathrooms, Stephen Dunkley from Aliaxis, Bev Brown from Lakes Bathrooms, Dave Williamson, Lucyanne Matthews and the BMN team, Mick Di Stazio, Tony Bailey, Nigel Cox of Timbmet, Gary Hebblethwaite from HROC, Julian Milligan from Kellaways BM, Jamie Pierce, Mike Booth, Andrew Day, Leo Martin, Fiona Russell-Horne, Ken and Jenny Pepperrell, John Swain, Cath Golding, Helen Newman of Lakes, Wendy Gillard of Timbmet, John Scrivens of Lakes, Barry Nicholls, Giles and Liz Bloomer, Frank the Taxi driver, Paul Owen and Lynda of IKO, Terry Broad, Stephen Turner, Colin Stewart of Lakes, Martyn Smith, Jo-Anna Challens of Lakes, Mrs I Malyon, Vince & Lisa Di Stazio, Dawn Jones of Lakes, Ben Pontin, Adele Pugh, Jane and Joe Evans at MRA and those anonymous donors.