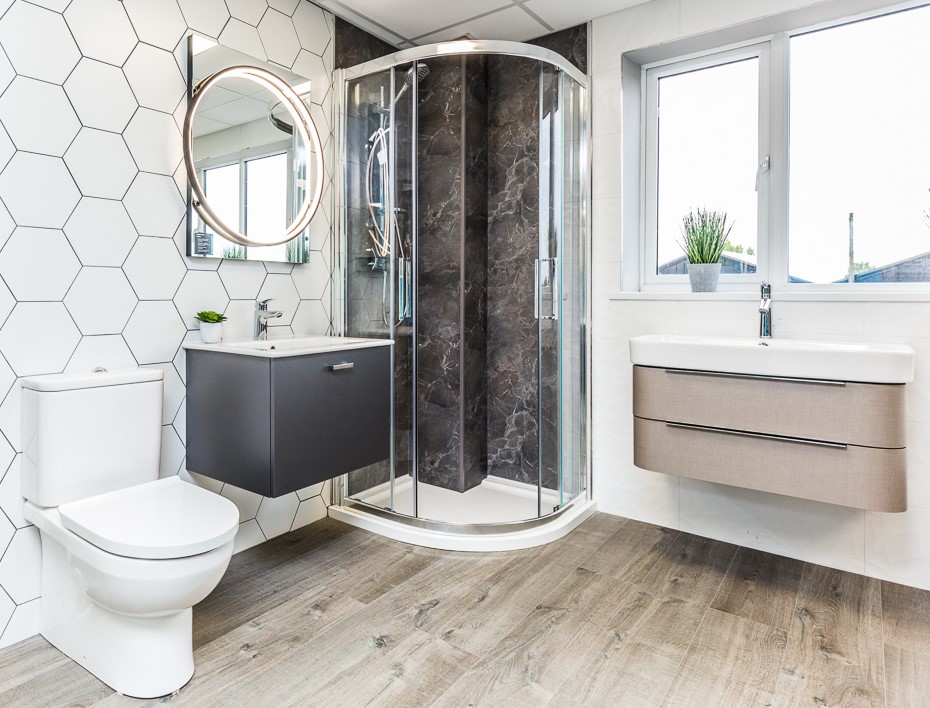 With staying at home is the new going out, merchants need to be ready for then showrooms can reopen, says our Sales & Marketing Director, Mike Tattam
The Showroom must go on!
COVID has changed our world in so many ways, from how we work and spend our leisure time, to the way we shop and communicate. While there has been a noticeable and expected shift towards online shopping during lockdown, clicks don't replace bricks. Physical showrooms remain an important selling tool for merchants – particularly for high value home improvement projects such as bathroom renovations.
Long periods in lockdown have kickstarted many homeowners to improve their living space by completing those projects they've been meaning to get around to – like upgrading the bathroom or kitchen, redecorating or doing the garden. And with their extra disposable income (thanks to saving money on commuting, holidays and eating out), large numbers of homeowners have the desire and the means to pay for these improvements – the Bank of England says they've got £100bn in their accounts – and are itching to start.
As we move into 2021, the uplift in home improvements looks set to continue, giving merchants the opportunity to capitalise on the increased interest from end users by fully utilising their online and offline showrooms.
Captivating your customers
When looking to update or renovate, the first place that consumers naturally go is the internet to do some research into options, styles and prices. But anyone who is about to spend potentially a few thousand pounds on a new kitchen or bathroom will want to experience how the products look and feel in person before committing to a purchase – so, the customer journey requires both a positive online and offline experience.
With online searches generally the first port of call, it's important that the product selection visitors find – on a merchant's website and in branch – reflect all the options, from the most popular bathroom products people need to the latest styles they want, and the merchant has the ideas and products to inspire them.
Product selection should also reflect societal trends, such as the rise in multigenerational living. Rising rents and house prices are forcing more adult children to return to their family home, while a lack of affordable retirement homes has also increased the number of adults living with their parents or elderly relatives.
Lakes Additions, for instance, is a growing suite of what are fast-becoming essential accessories for showering spaces, catering to different needs within the same household. 'Additions' ticks lots of boxes for multigenerational homes. The range includes everything from stylish low threshold trays and removable handles to contemporary fixed and foldaway shower seats, ensuring that everyone in the home can safely enjoy an invigorating shower without compromising, safety, comfort or design.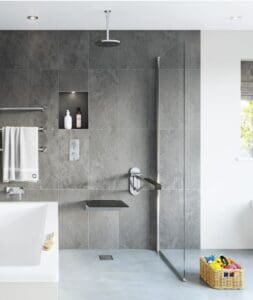 To maximise selling opportunities, particularly while the nation is in lockdown, it's worth considering new digital marketing concepts too. Lakes launched a pioneering online showroom in July 2020, giving installer and homeowner customers a showroom experience of our products from the comfort and safety of their own homes. The Lakes virtual showroom is hosted within a merchant's own website, so all the leads and enquiries go to them to close the deal.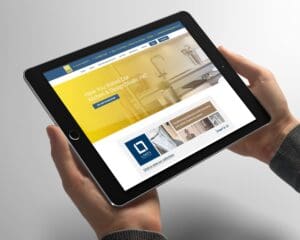 Touch points
While an engaging online offer will draw customers and installers in, there's no substitute for seeing products in person as size, materials and the finish of a product don't always render well on a computer screen, no matter how good the photography!
Customers also still need to speak to experts in person and feel the quality of what they are buying – that's why physical showrooms remain an important asset for merchants.
Quality is measured by seeing, feeling and interacting with products: Does the hardware feel like it's well-made, is it comfortable in your hand? Does the showering space look sturdy, do the shower doors close smoothly and quietly? Features like Lakes' PureVueHD – our low-iron clear glass – for example, also need to be seen in person to fully appreciate the difference and benefits versus normal 'green' glass.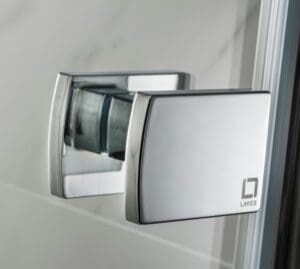 A branch showroom is the only place where customers can speak face-to-face with informed and friendly staff about whether a product is right for them. This two-way conversation about features, benefits and style will maximise the opportunities for a sale more than an exchange of emails. And we need to remind ourselves, that people buy from people so it's essential to nurture those (socially distanced) personal connections for sales, referrals and repeat business.
Showrooms of the future?
Realistically, most website visitors are not going to commit to buying a big-ticket item without seeing it first. But an inspiring online 'shop window' will bring them a step closer to purchase. By combining the strengths of offline and online selling platforms, merchants can create a showroom experience that capitalises on the more lucrative home improvements market while it's still in growth.
When the door to your showroom reopens, and things go back to 'normal', merchants should be ready to wow customers with an experience worth waiting for.
This article featured in Builders Merchants News, February 2021, page 16: https://bit.ly/3riHhRB