Kitchen & Bathroom sales slower to recover from impact of pandemic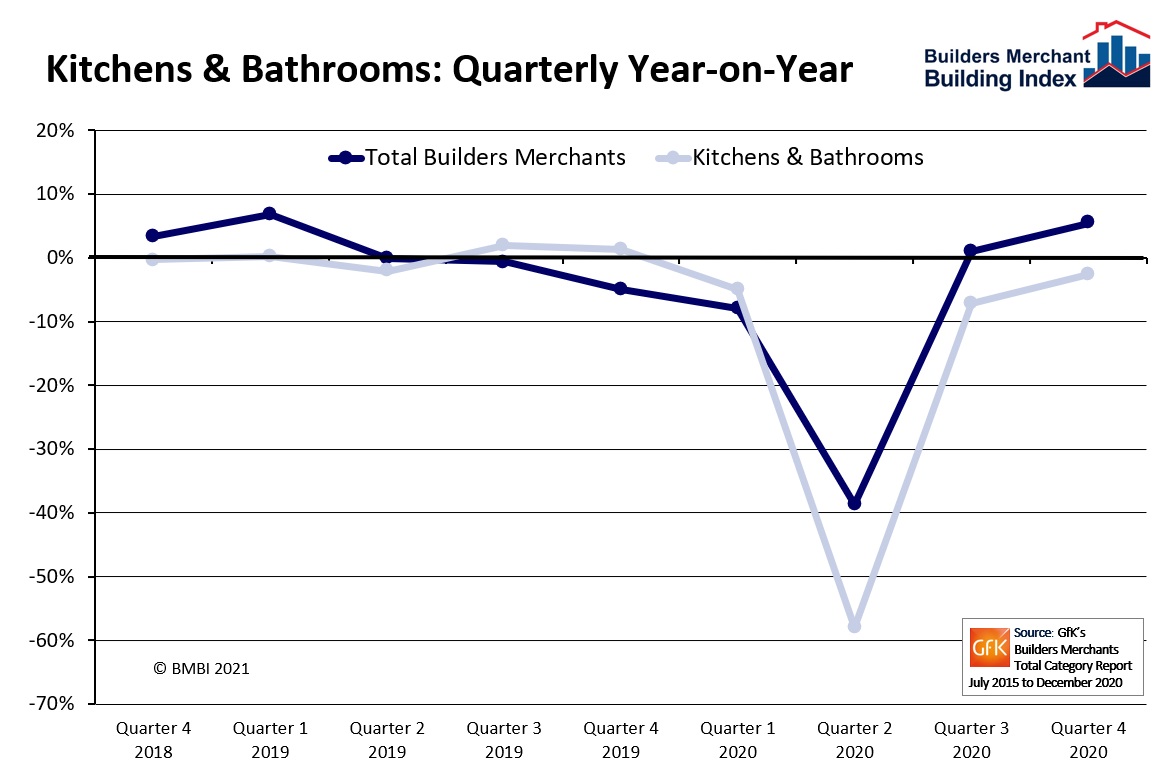 Sales to builders and installers by Britain's builders' merchants in December 2020 were 8.8% higher than in December 2019, with total Q4 sales also significantly up on Q4 2019, according to the latest Builders Merchants Building Index (BMBI) report. December sales of Kitchens & Bathrooms were up 2.4% on December 2019, but quarterly sales year-on-year were down.
Year-on-year
Total Builders Merchants value sales in Q4 2020 were up 5.4% compared to Q4 2019. Landscaping continued to perform well with sales up 22.9% on Q4 a year earlier. Kitchen & Bathroom sales were 2.6% lower over the same period. Sales in the Plumbing, Heating & Electrical category did least well (-6.0%).
Quarter-on-quarter
Total value sales in Q4 2020 were down on the previous quarter (July-September) by 10.8% – the result of a seasonal slowdown, another lockdown and five fewer trading days in Q4. Kitchens & Bathrooms sales were less weak than most categories at only 1.6% behind Q3.
Year-to-date
Over the full 12 months, merchants' value sales in 2020 were 10.7% lower than in 2019. Given the impact of the April lockdown, this highlights how well the sector bounced back. However, the Kitchens & Bathrooms sector was hit hard during the first lockdown, and slower to bounce back and recover from the impact, with 2020 sales 18.1% below 2019.
Index
The BMBI index for Q4 2020 was 111.1, with Timber & Joinery Products (125.4) the highest category. For Kitchens & Bathrooms the Q4 index was 109.8.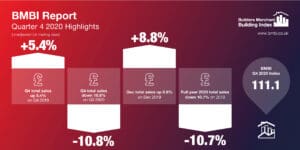 Our Sales & Marketing Director Mike Tattam and BMBI's Expert for Shower Enclosures & Showering comments: "Leaving the EU with a last-minute deal made supply problems more difficult, but it didn't create the worldwide shipping problems which are affecting availability and prices.
"As Covid spread across the world at the end of Q1 2020, there were widespread lockdowns. So shipping companies left ships in ports around the globe, along with sailors and containers. Anticipating a slow recovery, they also cut capacity. Now, a shortage of containers worldwide and unexpected, unprecedented demand is creating bottlenecks in many ports and driving prices skyward.
"In normal years, companies importing from China order well ahead of the Chinese New Year to ensure continuity of supply. New Year is a big event with factories closing from 11th-17th February. This year UK importers ordered more, anticipating a hard Brexit.
"Bottlenecks have also caused long queues of ships waiting to unload. Some freight forwarders refused to ship to the UK until it returned to normal, while carriers were reluctant to take bookings for the UK because of the congestion. Container freight rates (for a 40ft High Cube) have rocketed in response, reaching $15,000 by the end of January 2021, from $1,675 in August 2020.
"In response to these extraordinary costs, some companies are sweating stocks, gambling that container rates will have come down by the time they need to resupply. According to Maersk and Hapag Lloyd, that's not likely in the short term, so those businesses are likely to have supply problems in Q2 2021. Others are adding temporary surcharges which will be removed when rates return to normal.
"Aside from supply problems, demand for bathroom products is constrained by the closure of showrooms during lockdown. However, merchants and retailers without transactional websites can use online showrooms, such as Lakes Online Showrooms, embedded on their websites to generate and respond to demand. Customers can browse remotely and contact staff directly to ask questions or place an order. Selling doesn't have to stop because showrooms close."
BMBI Experts speak exclusively for their markets, explaining trends, issues and opportunities. For the latest reports, Expert comments and Round Table videos, visit www.bmbi.co.uk
The Builders Merchant Building Index (BMBI)
The BMBI is a brand of the BMF. The BMBI report, which is produced and managed by MRA Marketing, uses GfK's Builders Merchant Point of Sale Tracking Data which analyses sales out data from over 80% of generalist builders' merchants' sales across Great Britain.