Kitchens & Bathrooms sales surge in Q3
Company News, Industry Insights, Lakes People | 27/11/2020
Sales to builders by Britain's builders' merchants surged in September, with sales up 8.3% compared with September 2019, according to the latest Builders Merchants Building Index (BMBI) report. Landscaping was the strongest category over the period (+31.2%), albeit with one extra trading day.
Quarter-on-quarter
Total value sales in Q3 2020 (July-September) were significantly up on the previous quarter (+63.2%) when many merchants were closed. All product categories reported growth with Kitchens & Bathrooms seeing the strongest quarter-on-quarter recovery (+131%), closely followed by Tools (+130%).
Year-on-year
Total Builders Merchants value sales in Q3 2020 increased by 1% compared to Q3 2019. Landscaping sales were up 24.2% – the highest level since the index was set up in 2015. While Kitchens & Bathrooms sales recovered strongly quarter-on-quarter, compared to the same three months of 2019, sales were down -7.1%.
Month-on-month
Sales across all product categories were up in September compared to August, with Total Builders Merchants up 13.7%. Kitchens & Bathrooms sales were up 10.4% over the same period.
Index
August's BMBI index was 124.6. Landscaping (175.5) was strongest, followed by Timber & Joinery Products (133.4). For Kitchens & Bathrooms it was 111.6.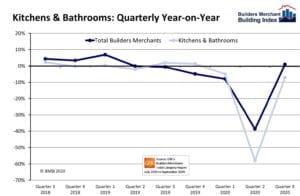 Lakes Sales & Marketing Director Mike Tattam and BMBI's Expert for Shower Enclosures & Showering comments: "Q3 sales of bathroom products were boosted as homeowners, who saw money accumulate in their bank accounts faster in lockdown than they could spend it, chose to improve their bathrooms. We expect another boost to bathroom products sales in Lockdown 2.0.
"The market is up on the same period last year. Plumbers and installers are busy, with full order books into Q1 2021. That's despite the inconsistent messaging coming out of national and regional governments and assemblies. The UK government though has been clear: construction is essential, and installers can continue to work safely in the home.
"On the supply side, there's port congestion in China, with high volumes being shipped to the recovering world economy. Worse, companies are importing extra ahead of the Chinese New Year, when virtually the whole of February is lost from the extended break. And they're importing extra to beat increased tariffs from a hard Brexit. There's a shortage of large containers, so importers are having to accept smaller containers, which adds to the problem in the UK. Felixstowe and Southampton are clogged with empty containers. So, ships are getting bounced to other ports. Haulage companies and drivers are unable to provide delivery slots, and companies are waiting over two weeks for deliveries from Felixstowe in particular.
"Each link in the supply chain is only as strong as the one next to it: if one link breaks the whole chain fails. With Brexit looming, successful supply chains will be those who work closest together, sharing information about stocks and expected sales. Supply 'chains' that try to maximise the interests of individual links will fail first and suffer most.
"One important effect of post-Brexit change is the new trademark that comes into effect from January 2021 – UKCA (UK Conformity Assessed). By the 31st December 2021, all products sold in our sector will require this mark, rather than the previous European CE mark. After 1st January 2022 products showing only CE marks entering the general marketplace will not conform to standard. The new UKCA is currently not recognized in Europe as a legal standard. Products that are sold in both the EU (including Eire) and UK can be dual marked."
BMBI Experts speak exclusively for their markets, explaining trends, issues and opportunities. For the latest reports, Expert comments and Round Table videos, visit www.bmbi.co.uk