Slowdown in merchant Q2 sales of kitchen and bathroom products
Facts & Figures, Company News, Industry Insights, Lakes People | 09/09/2019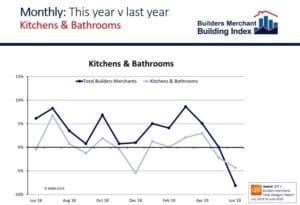 Following a strong start to the year, Total Builders' Merchants' value sales were down -1.2% in Q2 2019 against the same period last year. However, the adjusted figure, which takes into account trading day differences, was marginally positive at +0.4%.
Most product categories recorded a negative performance, heavily influenced by poor trading towards the end of the period (June). Heavy Building Materials, the largest category, declined by -1.6% year-on-year. Bathrooms & Kitchens value sales were down by -1.3% over the same period. Landscaping was the best performing category, rising by +1.2%.
Quarter-on-quarter, however, the picture is more positive. Total Builders' Merchants' sales in Q2 2019 increased by +8.9% compared with Q1, and average sales a day (which takes into account the difference in trading days) were up +12.5% over the same period.
Month-on-month, sales in June were down by -9.4% on one less trading day compared to May. Merchant sales of bathrooms and kitchen products fared better, down -3.2%.
Sales & Marketing Director Mike Tattam, and BMBI's Expert for Shower Enclosures & Showering, said: "Three years of negative headlines with politicians changing position and pretending they haven't, has taken its toll on public trust. It's making people ask if they should buy products such as bathrooms and showering spaces now or wait until the fog clears and there's less to worry about.
"Consumers are concerned about the wider economy, but while real incomes are rising, they're much happier with their own finances and prospects. However, they're holding back on big ticket sales like cars, bathrooms and showering products. Lakes, our own brand, is doing better than the market but we estimate that shower enclosures and associated products are down around 9% in the first six months. Unlike boilers, showers are not distress purchases, they're planned in advance and can be delayed.
"Brexit concerns are also weighing on the pound with suppliers absorbing increased costs, but now that's not sustainable in the long term particularly if sterling falls further.
"The public recognises Brexit as businesses' biggest challenge, but 49% of consumers see online shopping leading to the decline in the high street as the second biggest. Helping stockists respond to it is the next challenge. Stockists want support from their suppliers who need to give a clear indication of their strategy and trading route so customers can make decisions on their own future requirements."
BMBI Experts speak exclusively for their markets, explaining trends, issues and opportunities. For the latest reports, Expert comments and Round Table videos, visit www.bmbi.co.uk.