The Running Man
Mike Tattam is running the London Marathon 2018 for Child Rescue Nepal. Keep up-to-date with his training here.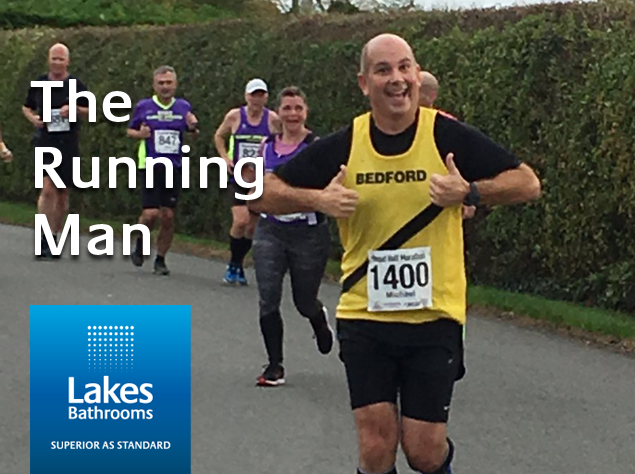 It seems a long time ago now but back in June at the Industry Conference in Budapest I made a bold announcement, 'I going to run the 2018 London Marathon!'.
It all came about in May when I was sitting with Simon Lawson of Lawsons builders' merchants, at the Worshipful Company of Builders' Merchants Masters weekend in Birmingham. During a chat over a cup of tea, yes it was definitely tea not alcohol, so I have no excuse, we got talking about running and how Simon had run the London Marathon before. I've always wanted to do it and had tried twice before to get in, but never managed to. Simon then mentioned about running for a charity to guarantee a place. He said he'd run for Child Rescue Nepal and that he was sure he'd be able to get me a place. This was now starting to get serious!
Over the next couple of weeks I thought about the offer and then we went to the Conference. Simon and I started talking again and he asked if I'd thought any more about it, I said yes but I wasn't sure that I'd be able to do it, then came the incentive. Simon very kindly offered Lawsons support for my sponsorship so I no longer had an excuse and said yes! And before you ask this time alcohol was involved! So there and then I announced on Twitter and the world that I would run the 2018 London Marathon for Child Rescue Nepal.
I'm running the @LondonMarathon next yr fundraising for Child Rescue Nepal. Please support me @JustGiving https://t.co/5V0pQWwBaH

— Mike Tattam (@mike_tattam) October 7, 2017
When I got back from Conference things moved at a pace, unlike my running. The team at Child Rescue Nepal sent me the details and before I knew it I was registered to run the marathon on April 22nd 2018. Now came the hard part, the training! I must admit I do a little bit of running, about 30 miles per month, but this is a different league – I have to run 26 miles and 385 yards – suddenly came the feeling of panic – what had I done!
My training started well and I quickly improved my monthly mileage so I signed up for the Stroud Half marathon which was on Sunday 22nd October, exactly 6 months before the big one. Now anyone who runs knows that as soon as you think things are going well that's the moment something bad happens, and it did. Five weeks before the Half Marathon I hurt my knee and like most runners tried to 'run it off' – that was a bad idea. Six sessions of physio and a week before the half marathon and I'm thinking of pulling out. My running coach, sounds posh but it's my brother in law who is a coach at Bedford Harriers running club, said just do it and we'll see what happens.
Join us in cheering on our very own @mike_tattam in the #stroudhalf marathon this morning! 🏃🏽Good luck! https://t.co/mVDoosAXlD

— Lakes Bathrooms (@LakesBathrooms) October 22, 2017
There I am on the start line, 13 miles, 192.5 yards to go thinking why am I doing this and hoping to get round in under 2 hours and 20 minutes. Well it all started very well, mile one, 9 minutes and 18 seconds, mile two 9.25, then I got carried away and forgot to look at my running watch, but I was really enjoying it. There were people supporting along the way and even a band at 10 miles, all taking my mind off what I was doing. In the distance I could see the 2 hour pace maker and I decided to try and catch them up, which by some miracle I did. I'm feeling good, really good and I go past them, wow what's happening to me? Then comes the last mile and if I can hang in there I could go under 2 hours. With lots of puffing and wheezing I cross the line in 1 hour, 59 minutes. I came 137th place in my age group, and was 904 out of 1,400 runners but I don't care, I felt like Mo Farrah. Then realisation sets in, oh no this is only half of what I'll have to do in six months' time!
Smiley mike with his #HalfMarathon medal today – in training for @LondonMarathon @FeeHorne pic.twitter.com/bW7zc6essJ

— Mike Tattam (@mike_tattam) October 22, 2017
So two weeks off to rest the knee and now back in training. It's going to be tough and there will be times I don't want to go out but I'm doing it for an excellent cause and gratefully supported by Simon Lawson – a big thanks to Lawsons for helping me to fulfil a long-term ambition.
I'll be posting regular blogs – thanks to editor Fiona who has offered to cover my training and the actual day of the Marathon. Now comes your part, please go to my 'Just Giving' website and dig deep into those pockets to support a very worthy cause.
Thank you and watch out for my next blog!