New 2021 #DesignedForLife brochure with inspirational design ideas
Our new 2021 #DesignedForLife brochure was launched in January and can be downloaded here.
Continuing to build on Lakes' key themes of lifestyle imagery and bathroom sets that reflect life as lived, the 2021 brochure includes our new Antigua and Aruba showering spaces from Lakes premium Island Collection. These showroom exclusive ranges also benefit from Lakes Definitions – a new colour range of shower door handles and profile caps that help to define the showering space. The high quality cast handles and stylish caps are available in four on-trend colour options: gold, rose gold, nickel and matt black.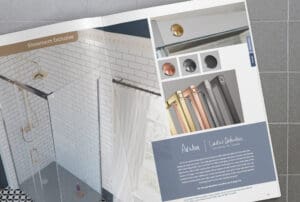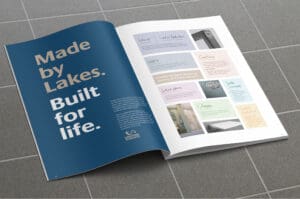 Lakes' brochure has become a powerful sales tools for merchants, retail stockists and installers. It makes the case for the whole showering space – the glass, tray, hardware, framing and optional extras. This innovative approach is helping Lakes' customers explain the market easily and effectively, and makes the most of new selling opportunities.
Sales & Marketing Director Mike Tattam comments: "Our brochures don't just look different from the norm, they are also leading the way in defining the showering space market to give it a purpose and focus so our customers can sell more. From explaining the technical function of shower glass, through to the simple benefits of Quick Release, our brochures remind customers of what matters for today's consumers and lifestyles."
If you would like a hard copy of our new brochure call 01684 853 870.