Accessible bathroom design that caters for an ageing population
We are lucky enough to live in a time of consistently improving standards of living, technical advancements and medical treatments. Whilst clearly all of these factors are to be celebrated, the knock-on effect of all this change is longer life expectancies and an ever ageing population.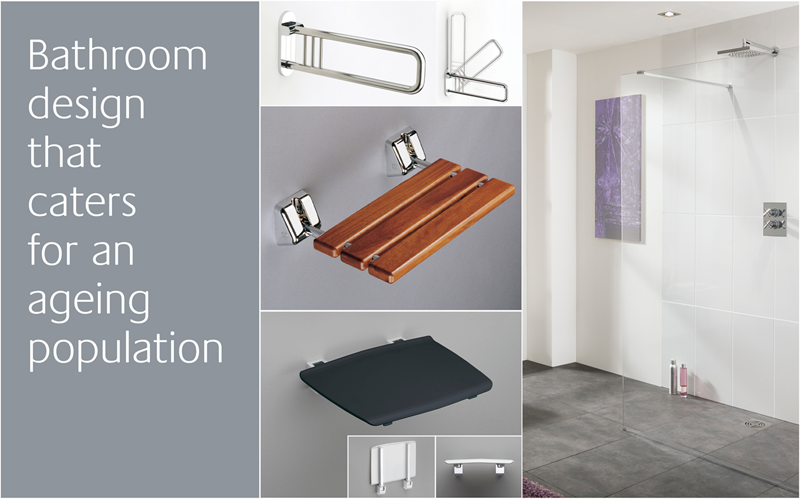 The question is, why is an ageing population so important to your business?
When the demographic of the general population changes, so does your customer base.
The Office for National Statistics has recently confirmed that in the UK more than 11 million people are now aged over 65 and a third of us are aged 55 and over. With this in mind, to stay relevant as businesses, all our products need to be more focused on accessibility, our showrooms need to display an understanding of shifting demands and our innovations needs to be developing solutions tailored to enhance the lives of an ageing population.
Being in the bracket of over 55 OBVIOUSLY doesn't mean we're all losing our faculties or even close to being put out to pasture, it just means there are a few wise decisions in bathroom design, which we could be considering to future proof our customers houses and businesses.
You may or may not have seen the term 'ageing in place' in more frequent usage. This refers to the growing demand for solutions that allow us to live longer in our properties, before having to consider assisted living or retirement communities.
How we can help cater for the 'ageing in place' market
With increasing years and perhaps when flexibility becomes impeded, cleaning the tight square footage of a shower enclosure becomes a more challenging task. The All-Clear coating provides a barrier between the rough micro-surface of the glass and any water and dirt, meaning an enclosure requires far less cleaning.
The AllClear stay-clean coating comes as standard on every product in our Classic, Coastline and Island Collections.
4. Toughened Safety Glass
Should you fall in the bath or shower, mobility impaired or not, our products are sculpted from toughened safety glass, approved to BSI EN12150-1 in a range of thicknesses – a real reassurance whatever your age.
Literally a handy adaptation for anybody wanting to ensure their shower and bathroom remains safe and accessible with advancing years. With elegant profiles they can fit seamlessly into any bathroom scheme.
If balance or strength become an issue, the shower seat provides a safe solution for maintaining health, well-being and independence. Thanks to modern manufacturing capabilities these are also available in an increasingly varied number of styles and fits, so accessibility doesn't need to define the look of your bathroom.
Are accessible bathroom designs featured well enough in your showroom?