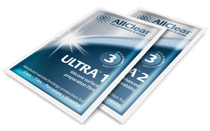 AllClear ULTRA Towelette
A two part treatment for the ultimate performance around the home that's guaranteed for three years.
Product Description
For the ultimate in AllClear protection our ULTRA system of a special surface preparation film and top dressing wipe protects for up to 3 years.
The advanced nanotechnology coating can be used to give a wide range of domestic surfaces the highest level of hydrophobic performance, saving time and money by saying goodbye to elbow grease and harsh chemical cleaners.
Each towelette will treat an area of approximately 1m2. Suitable for use on glass, tiles, porcelain and granite.